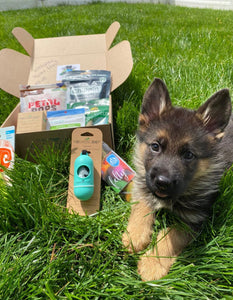 Introducing Pure Earth Pets Puppy Box! Get everything you need for your new puppy that is natural and sustainably made! 
The Puppy Box is designed to help your new puppy transition into their new home while providing you with eco friendly and natural treats and toys! Our biodegradable box ships within 24 hours and arrives at your doorstep! 
The Puppy Box also makes a great gift! Over $125 Value for your new pup!
Each Puppy Box contains:
1 Bag Chippin Treats
1 Reusable Poop Bag Holder with 15 bags inside
1 Refill Box of Earth Rated Compostable Poop Bags
1 Bag of Bocce's Treats
1 West Paw Tizzi Dog Toy (Great for teething pups!)
1 Himayalan Pet Company Felty Toy 
2 Month membership to AskVet 
1 Wolf Spring vitamin bottle - Puppy Formula
The Puppy Box is not a subscription, you will receive 1 box at the time of purchase! Grab or gift your Puppy Box today!